Portland Drain Camera Inspections
Comprehensive Drain Line and Pipe Assessments for Customers in Vancouver, Beaverton, Tigard, and the Greater Portland Area
At Environmental Works, we leverage state-of-the-art technology to help our customers resolve their drain line, sewer line, and pipe issues. One such innovative solution is our drain camera inspections - a method designed to take the guesswork out of diagnosing your plumbing problems. These inspections involve the use of high-definition cameras that are inserted into your drain lines, providing real-time video feed. This allows us to precisely locate blockages, leaks, and other issues and determine the best way to address them.
Customers love our camera drain inspections because they're:
Accurate: This technology enables us to pinpoint the exact location and nature of the problem, ensuring targeted and effective solutions.
Preventative: Regular camera inspections can detect potential issues before they worsen, preventing costly repairs and damage.
Minimally disruptive: With camera inspections, there's no need for extensive digging to locate the problem, preserving the aesthetics of your property.
Reassuring: Seeing the issue for yourself on the camera feed provides assurance that the right problem is being addressed.
Efficient: The clarity provided by camera inspections enables quick decision-making and action, saving you time and money.
Whether you're concerned about a potential issue or just engaging in routine maintenance, our drain camera inspections can give you a complete picture of what's happening inside your plumbing system.
Are you interested in a drain camera inspection from Environmental Works? Call our Portland team at (503) 719-6715 to request a free estimate or same-day service!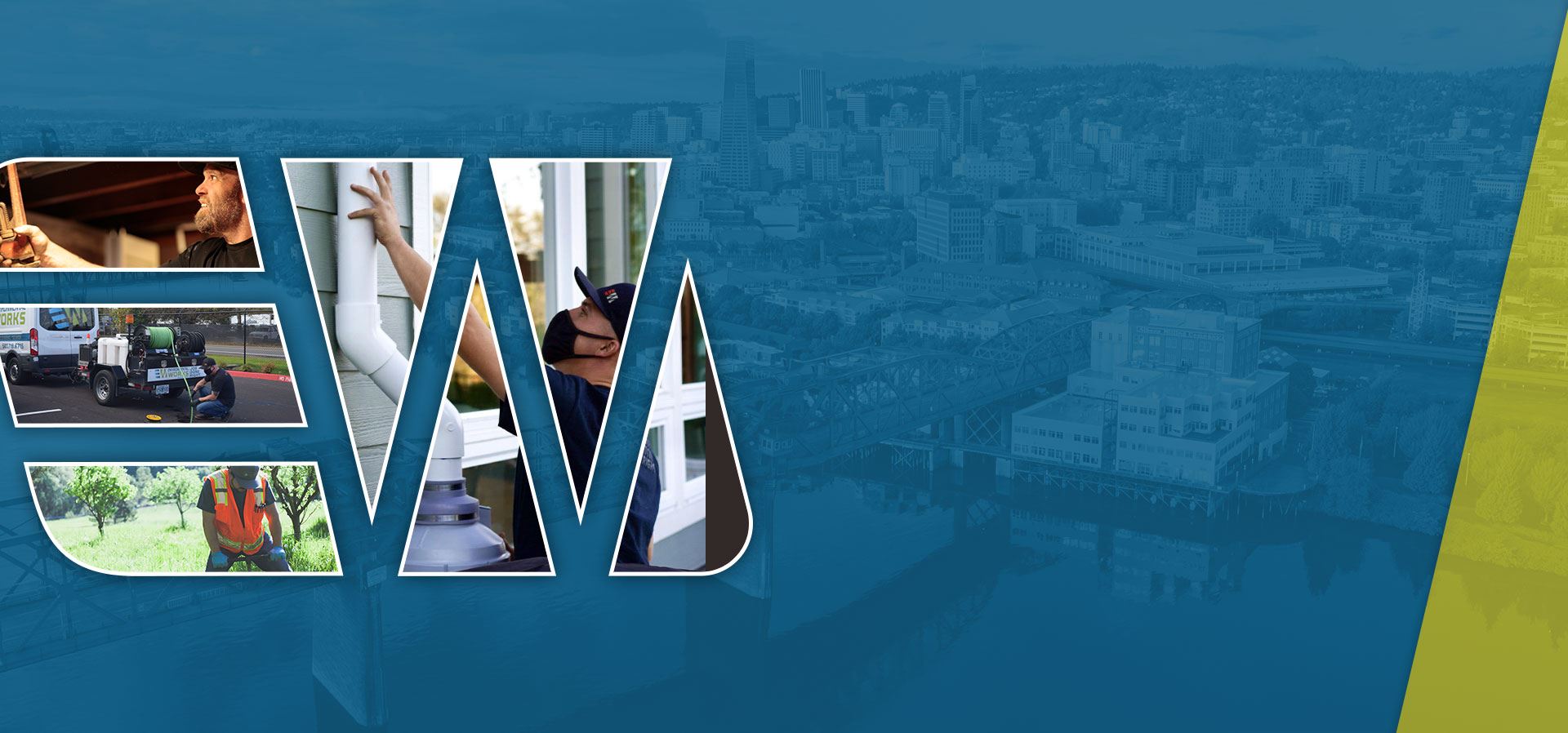 Happy Customers in Your Neighborhood
Hear From Our Past Customers
"Pleasure Doing Business & Highly Recommended"

I had the pleasure of working with Dave and others from Environmental Works. Integrity, professionalism, and detail-oriented every step of the way. They were able to work with my budget and time windows, a project completed by the book.

- Nick W.

"Hunter was absolutely amazing to work with! Very professionally handled my unique situation making sure to cover every angle and make sure it was done right and under warranty. Drew did an awesome job with the repair work…got it done right and so fast."

- Kyle P.

"10/10 Amazing Company to Work With!"

I truly would recommend this company to anyone- specifically because of the customer service and value I received having Joe come on site. Joe at Environmental Works went way above and beyond helping me locate a very a hard to find tank in the backyard.

- Alex M.

"Loved working with Environmental Works! They are professional, easy to work with, and are always on time! Price is very good too! I will definitely recommend them to any homeowner."

- Jane B.

"A New Loyal Customer"

Environmental Works performed a sewer scope inspection and a radon test for me and made the process very easy, and at the right price. I received a comprehensive and detailed report for the test and inspection right away. Scheduling was a breeze and everyo

- Mark G.

"Thanks guys!"

I'm super happy with Environmental Works, they were able to get my Radon mitigation system almost immediately. The work was efficient and on time.

- Gustavo D.

"I recommend them highly. Great Job!"

This company was great to work with, I am an older widow and I felt they gave me a very fair bid! They were here when they said did the job and cleaned up as much as they could as they had to dig up some of my yard.

- Jan S.

"Thank you, from a very satisfied customer!"

Environmental Iron Works responded to my request for help the same day. Issue was resolved that day by Joel & Jacob. I appreciate Steve & Colby coordinating this last minute request on a Friday afternoon. Very professional, speedy response for help

- Michelle K.

"No One Better!"

Highly recommended for radon mitigation. They took the time to explain everything. I also tried their plumbing department. Joel was great. Fixed my leaky outdoor faucet fast and reasonably priced.

- Lori S.
Stay Up to Date with
Environmental Works
Want all the latest news or updates? Browse through our blog to read our most recent posts and featured articles.