Portland Piping and
Repiping Services
Installing and Replacing Plumbing Pipes for Residential and Commercial Customers in Vancouver, Beaverton, Tigard, and the Greater Portland Area
Your piping system is the backbone of your home or business's plumbing system. It plays a vital role in ensuring the smooth flow of water throughout your property, contributing to a comfortable and convenient environment. At Environmental Works, our team of licensed professionals is dedicated to delivering high-quality piping and repiping services designed to enhance the functionality and longevity of your plumbing system.
You may need new plumbing pipes if:
Your pipes are old: Older pipes made of galvanized steel or iron are prone to corrosion and may need replacement to prevent leaks.
You're experiencing frequent leaks: If you're constantly dealing with water leaks, your pipes may be worn out and may benefit from repiping.
The quality of your water is poor: If you notice a change in your water's color, taste, or smell, it could be a sign of deteriorating pipes.
Your water pressure is low: Persistent low water pressure could indicate a problem with your pipes that might require replacement.
You're planning a renovation or expansion: If you're expanding or renovating your property, you may need new pipes to accommodate the changes.
Whether you're adding new pipes to your system or replacing old ones, you can rely on Environmental Works for comprehensive piping and repiping solutions that are tailored to meet your specific needs.
If you think you may need new pipes, call our Portland piping and repiping team at (503) 719-6715 to request a free estimate – we also offer camera inspections to help you evaluate the state of your current pipes!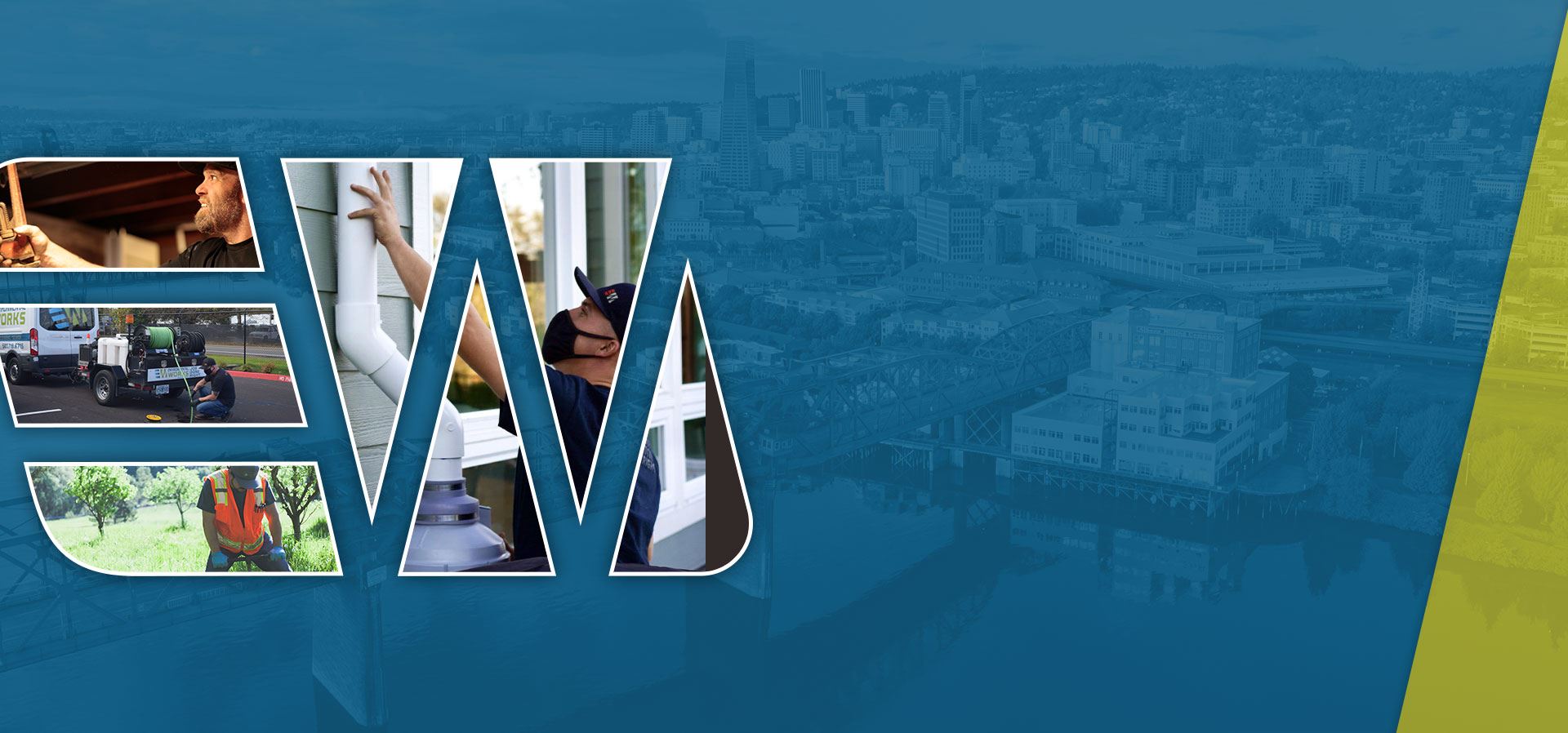 Happy Customers in Your Neighborhood
Hear From Our Past Customers
"Hunter was absolutely amazing to work with! Very professionally handled my unique situation making sure to cover every angle and make sure it was done right and under warranty. Drew did an awesome job with the repair work…got it done right and so fast."

- Kyle P.

"Thank You Again"

I'm happy with the service Ework provided and I will definitely be recommending you guys to friends and family! Exceptional service and also, I appreciate you guys for being on time twice! The fair pricing is also what made me become an appreciative custom

- Josh B.

"5 Stars"

Both the managing and the on-site staff who actually installed the radon mitigation system were easy to work with. Specifically, I found them to be easy to communicate with and that they listened to my concerns.

- Diedra C.

"Thank You, Joel and Team!"

I've been using Environmental Works for years because they're great, and I just discovered something else they do very well--classes to educate homeowners and real estate professionals about the risks and various factors affecting homes when it comes to se

- Corey E.

"I recommend them highly. Great Job!"

This company was great to work with, I am an older widow and I felt they gave me a very fair bid! They were here when they said did the job and cleaned up as much as they could as they had to dig up some of my yard.

- Jan S.

"Excellent Service!"

This company is great! The lady who took my call listened and made the decision as we planned what to do next. Jeff was prompt, professional, and knowledgeable and told me exactly what I needed to know.

- Lynn L.

"Great Service All Around"

Em came out to do a sewer scope, she was early and called to see if she could get started early. She was professional, friendly, and thorough. She even researched our city's code after the scope to let us know a possible issue would not be our respon

- Danielle M.

"Highly recommend. Thank you!"

Tim came out for our job that included clearing a drain that directs runoff from our driveway. It turned out to be more complicated than anticipated but Tim persevered, even crawling under the deck to get a better take on the situation. Definitely apprecia

- Matthew S.

"Thank you, from a very satisfied customer!"

Environmental Iron Works responded to my request for help the same day. Issue was resolved that day by Joel & Jacob. I appreciate Steve & Colby coordinating this last minute request on a Friday afternoon. Very professional, speedy response for help

- Michelle K.
Stay Up to Date with
Environmental Works
Want all the latest news or updates? Browse through our blog to read our most recent posts and featured articles.