Portland Drain Cleaning
Cleaning and Unclogging Drains for Our Customers in Vancouver, Beaverton, Tigard, and the Greater Portland Area
Dealing with clogged drains can be a daunting task, and at Environmental Works, we understand just how crucial it is to have your drains running smoothly. Located in the heart of Portland and proudly serving Vancouver, Beaverton, Tigard, and the Greater Portland Area, we provide customers with top-notch drain cleaning services designed to tackle the most stubborn blockages.
Our licensed and insured professionals are ready to make your drains cleaner, clearer, and more functional, armed with advanced equipment and years of expertise. We don't just clear your drains; we can also provide a full inspection to pinpoint the roots of your issues, helping us implement solutions that last. With Environmental Works, drain cleaning is more than just a service - it's a commitment to providing you with peace of mind and a hassle-free experience.
Whether you're dealing with a slow-draining sink or a fully blocked sewer line, trust us to get the job done right. With Environmental Works, you're not just getting a service provider - you're getting a team that treats you like family. We're ready and eager to help you get your drains back on track, one drain cleaning service at a time.
Get your drains cleaned ASAP – call our Portland drain cleaning team at (503) 719-6715 to request a free estimate and same-day service!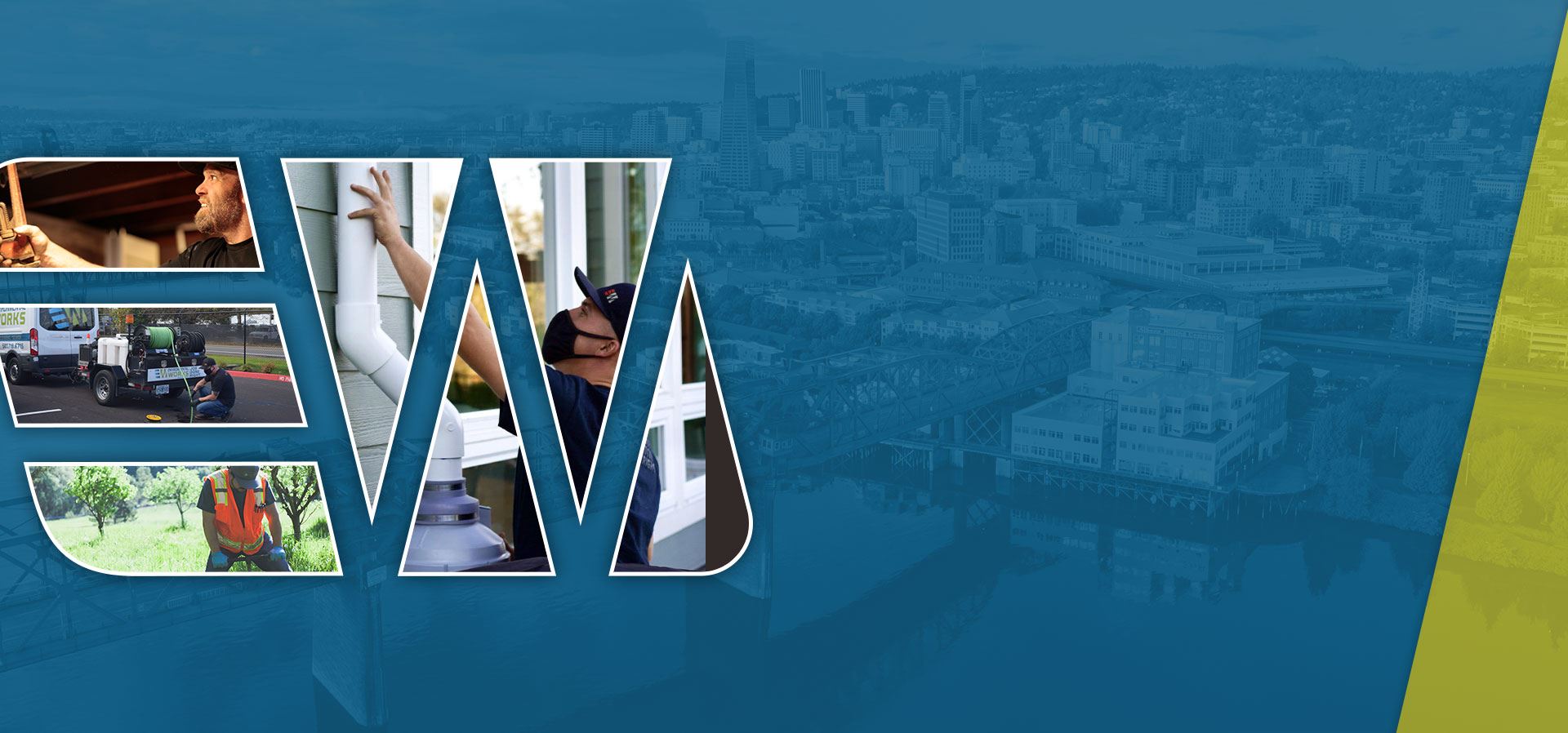 Happy Customers in Your Neighborhood
Hear From Our Past Customers
"Thanks Environmental Works!"

Installation happened smoothly, with great communication all around. They offer a great, needed service and I feel reassured knowing they will deal with any issues if they arise in the future! Radon Free because of this awesome company!!!

- Michelle M.

"Loved working with Environmental Works! They are professional, easy to work with, and are always on time! Price is very good too! I will definitely recommend them to any homeowner."

- Jane B.

"Thank You, Joel and Team!"

I've been using Environmental Works for years because they're great, and I just discovered something else they do very well--classes to educate homeowners and real estate professionals about the risks and various factors affecting homes when it comes to se

- Corey E.

"Highly recommend. Thank you!"

Tim came out for our job that included clearing a drain that directs runoff from our driveway. It turned out to be more complicated than anticipated but Tim persevered, even crawling under the deck to get a better take on the situation. Definitely apprecia

- Matthew S.

"10/10 Amazing Company to Work With!"

I truly would recommend this company to anyone- specifically because of the customer service and value I received having Joe come on site. Joe at Environmental Works went way above and beyond helping me locate a very a hard to find tank in the backyard.

- Alex M.

"Thanks guys!"

I'm super happy with Environmental Works, they were able to get my Radon mitigation system almost immediately. The work was efficient and on time.

- Gustavo D.

"No One Better!"

Highly recommended for radon mitigation. They took the time to explain everything. I also tried their plumbing department. Joel was great. Fixed my leaky outdoor faucet fast and reasonably priced.

- Lori S.

"I recommend them highly. Great Job!"

This company was great to work with, I am an older widow and I felt they gave me a very fair bid! They were here when they said did the job and cleaned up as much as they could as they had to dig up some of my yard.

- Jan S.

"Great Service All Around"

Em came out to do a sewer scope, she was early and called to see if she could get started early. She was professional, friendly, and thorough. She even researched our city's code after the scope to let us know a possible issue would not be our respon

- Danielle M.
Stay Up to Date with
Environmental Works
Want all the latest news or updates? Browse through our blog to read our most recent posts and featured articles.
A Different Way to Clean Your Drains
We utilize various advanced drain cleaning techniques tailored to each drain issue's unique requirements. This diversity in our approach lets us meet a variety of customer needs. If you're concerned about chemicals, have a particularly stubborn clog, or want to keep things as clean and minimally invasive as possible, we have a drain cleaning solution you'll love.
Environmental Works uses drain cleaning techniques like:
Hydro jetting: This powerful drain cleaning process uses high-pressure water jets to eliminate blockages and build-up in your pipes. It's particularly effective for severe clogs and can also help restore your pipes' inner walls to a like-new condition.
Drain cabling: Also known as "snaking," this method involves threading a metal cable down your drain to break up obstructions physically. It's a tried-and-true technique that's excellent for dealing with stubborn clogs in your home's pipes.
Each of these techniques offers unique benefits, and our team will determine the most suitable approach based on the specifics of your drain issue. With Environmental Works, you can trust that your drains are in good hands.
Find the right drain cleaning strategy for your situation – call Environmental Works at (503) 719-6715 or get in touch with our team online!