Portland Sewer Line Repair
Repairing and Replacing Sewer Lines for Customers in Vancouver, Beaverton, Tigard, and the Greater Portland Area
A properly functioning sewer line is a cornerstone of any building's plumbing system. When issues arise, they can cause significant disruption and potential damage. That's why our experienced and dedicated team at Environmental Works is always on hand to provide expert sewer line repair services to our customers in Vancouver, Beaverton, Tigard, and the Greater Portland Area. We bring our commitment to quality, efficiency, and customer satisfaction to every job, doing everything we can to ensure that your sewer line is repaired promptly and effectively.
Signs that your sewer line needs to be repaired include:
Unpleasant odors: A persistent sewer smell in your house or yard can be a clear sign of a broken sewer line.
Slow drains: If your sinks, showers, or toilets are draining slower than usual, it can indicate a problem with your sewer line.
Sewage backup or blockages: Regular sewage backups in your toilets or drains are a clear sign of a sewer line issue.
Lush patches of grass: If you notice an unusually green or lush patch of grass in your yard, it could be due to a leaking sewer line.
Indentations in your lawn or under pavers: A sagging area in your lawn or under pavers may indicate a broken sewer line.
Foundation cracks and sinkholes: These problems can be serious, and their root cause may be a damaged sewer line.
If you observe any of these signs, promptly contacting a professional like Environmental Works is critical to prevent further damage and disruption.
If your sewer line needs fixing, call Environmental Works' Portland office at (503) 719-6715 to request a free estimate or same-day service!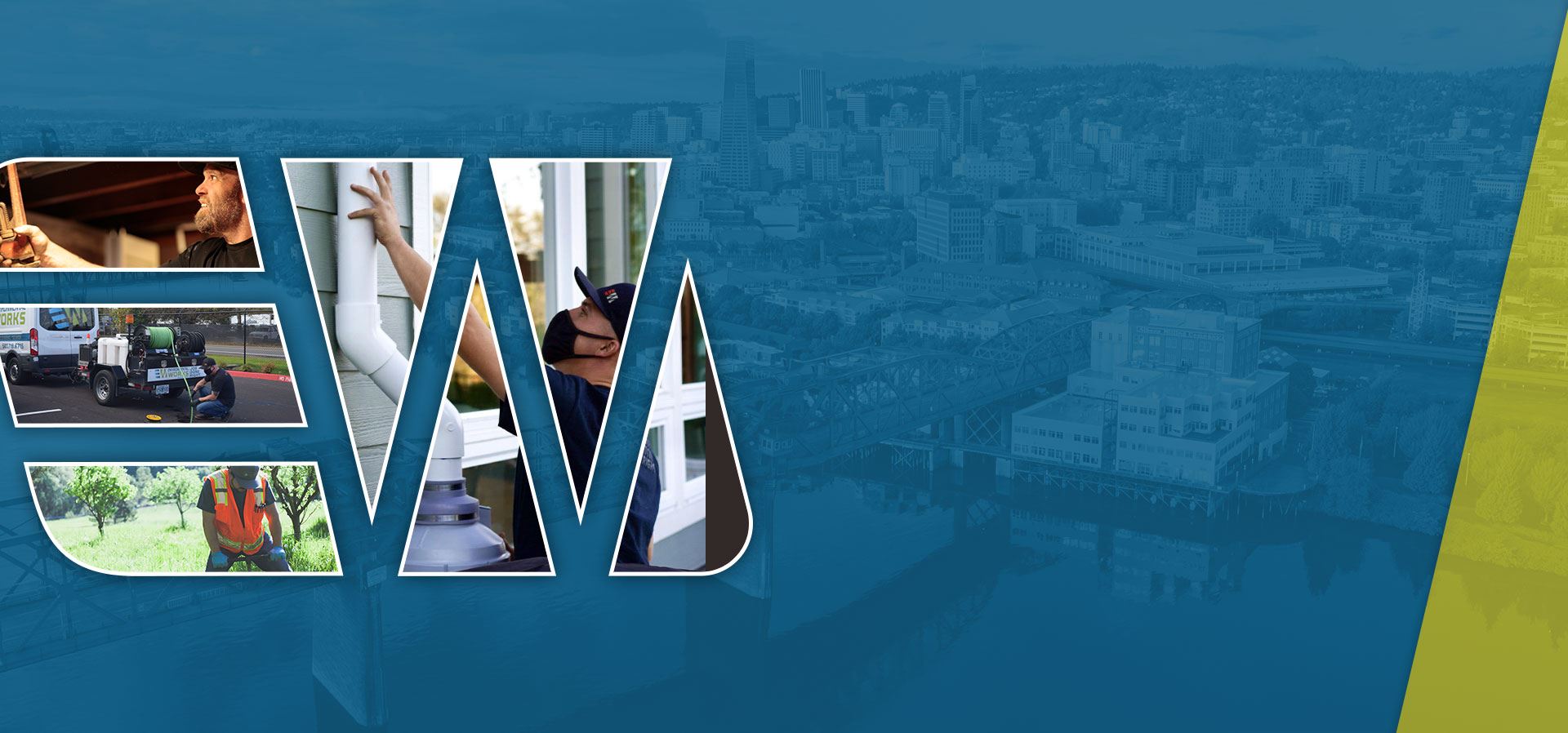 Happy Customers in Your Neighborhood
Hear From Our Past Customers
"Professional & Honest"

Sam and Environmental Works did a 5 star job for us. We had a high radon level and they came out and they fixed it in the afternoon. They also saved us thousands of dollars by only doing part of the job they thought they would need to do. We only needed ha

- Patty M.

"Made Everything Easy for Us"

We had environmental works install a drain line by doing horizontal drilling for a 3" line for 110', install the pipe and connect to existing plumbing that needed the extension. The work was done to our satisfaction in a single day.

- James R.

"I recommend them highly. Great Job!"

This company was great to work with, I am an older widow and I felt they gave me a very fair bid! They were here when they said did the job and cleaned up as much as they could as they had to dig up some of my yard.

- Jan S.

"Thank you, from a very satisfied customer!"

Environmental Iron Works responded to my request for help the same day. Issue was resolved that day by Joel & Jacob. I appreciate Steve & Colby coordinating this last minute request on a Friday afternoon. Very professional, speedy response for help

- Michelle K.

"10/10 Amazing Company to Work With!"

I truly would recommend this company to anyone- specifically because of the customer service and value I received having Joe come on site. Joe at Environmental Works went way above and beyond helping me locate a very a hard to find tank in the backyard.

- Alex M.

"Thank You, Joel and Team!"

I've been using Environmental Works for years because they're great, and I just discovered something else they do very well--classes to educate homeowners and real estate professionals about the risks and various factors affecting homes when it comes to se

- Corey E.

"No One Better!"

Highly recommended for radon mitigation. They took the time to explain everything. I also tried their plumbing department. Joel was great. Fixed my leaky outdoor faucet fast and reasonably priced.

- Lori S.

"Very Professional and Flexible!"

We were pleased with the way our mitigation system turned out. Our home proved to be somewhat of a challenging one to put in a system in a way that was acceptable to us. The crew worked hard to make it all work out well.

- Sheri S.

"Hunter was absolutely amazing to work with! Very professionally handled my unique situation making sure to cover every angle and make sure it was done right and under warranty. Drew did an awesome job with the repair work…got it done right and so fast."

- Kyle P.
Stay Up to Date with
Environmental Works
Want all the latest news or updates? Browse through our blog to read our most recent posts and featured articles.