Radon Mitigation Services
in Portland
Hire the Top Rated Radon Testing & Radon Mitigation Company in Oregon & SW Washington
There are different thresholds for acceptable levels of radon gas depending on where you live. Here in Oregon, the Environmental Protection Agency's (EPA) recommended action level of 4.0 pCi/L is universally enforced, except at Environmental Works, where we guarantee radon reductions to below the World Health Organization's (WHO) limit of 2.7 pCi/L*. Radon gas generated from the soil beneath your home or property is vented and mitigated by reversing the sub-slab or crawlspace pressure. This is accomplished by creating a suction point below the foundation or within the crawlspace from which a radon fan continuously draws air from the soil via PVC or ABS pipe. Rather than radon infiltrating into the structure, a radon mitigation system will negatively pressurize the air below the foundation, exhausting harmful gases to above the roofline instead of them being positively pressurized into your home or business. The most common method of radon reduction is 'Active Soil Depressurization', explained in greater detail below.
Environmental Works approaches each home or property individually, assessing the areas of greatest concern. We conduct pressure extension testing to confirm suction point(s) location efficacy and engineer a radon mitigation system that effectively rids your home of carcinogenic gases without being an aesthetic eyesore. Our initial inspection allows us to provide a customized radon solution to each client to get the best radon reduction system for your money, with an EWorks Lifetime Performance Guarantee! Everything from cold joints between foundation walls and slabs, to floor drains and unsealed sump pumps, must be considered to ensure a successful installation. A poorly built wall channel drain, unsealed foundation slab, or even an unbalanced HVAC system can contribute to elevated radon levels.
System Design and considerations of structural components are essential to devising an effective plan that doesn't turn into a nightmare of additional work and rising costs. Environmental Works does the right research up front to install the most effective radon mitigation system at the most affordable price. We also include a post-mitigation inspection radon test to prove our systems are in fact working properly. Furthermore, we design systems to blend in with the building itself, taking preventative measures to reduce issues of noise and unsightliness. EWorks bids our radon abatement systems with a solid upfront price*, with guaranteed radon reduction to below the WHO Action Level of 2.7 pCi/L**, and we will install an additional suction point at no additional cost to get the job done right!
(*additional systems not included unless otherwise noted in contract. **applicable to MOST residential home radon systems)
Each radon mitigation includes system labeling, an accessible manometer to easily monitor radon fan functionality, and a Lifetime Performance Guarantee to keep radon levels below 2.7 pCi/L that transfers with ownership!
Post-Mitigation Radon Testing is included with all of the radon mitigation proposals sent out by Environmental Works. There is no way to know our system is doing its job effectively until a final post-mitigation radon test is completed, nor will you see a bill until the job is done right! Short-term (2-4 day) follow-up radon testing is an industry standard and serves as the final form of proof that the home or business is now safe from high levels of radon! Upon installation, our technicians will then set a CRM (Continuous Radon Monitor) in the lowest livable location and a certified testing professional will return a few days later to assess and analyze the data, promptly reporting the results to the appropriate parties.
It is recommended to do follow-up radon testing every 2 years to ensure continued system performance.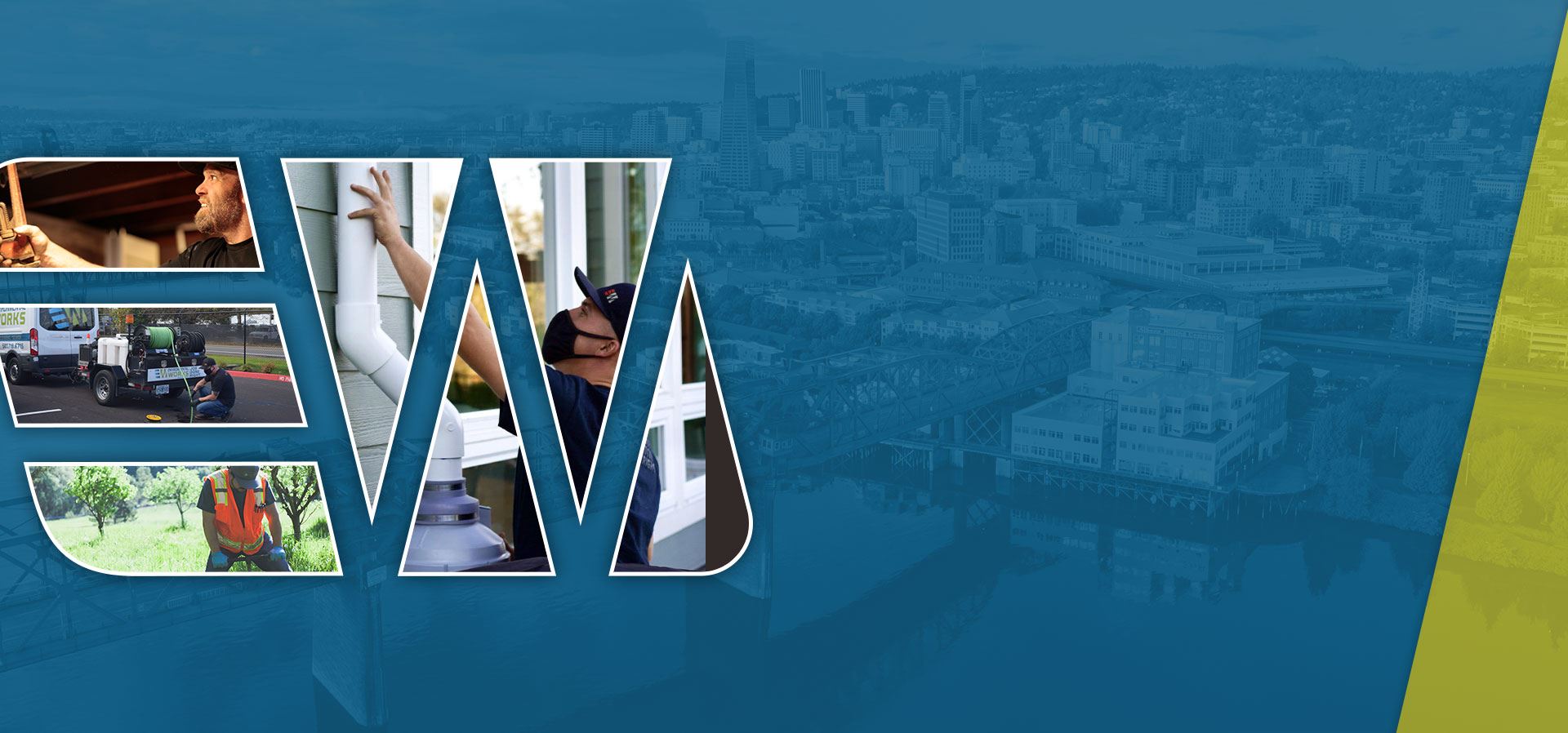 Happy Customers in Your Neighborhood
Hear From Our Past Customers
"Thanks guys!"

I'm super happy with Environmental Works, they were able to get my Radon mitigation system almost immediately. The work was efficient and on time.

- Gustavo D.

"Highly recommend. Thank you!"

Tim came out for our job that included clearing a drain that directs runoff from our driveway. It turned out to be more complicated than anticipated but Tim persevered, even crawling under the deck to get a better take on the situation. Definitely apprecia

- Matthew S.

"Thanks Environmental Works!"

Installation happened smoothly, with great communication all around. They offer a great, needed service and I feel reassured knowing they will deal with any issues if they arise in the future! Radon Free because of this awesome company!!!

- Michelle M.

"No One Better!"

Highly recommended for radon mitigation. They took the time to explain everything. I also tried their plumbing department. Joel was great. Fixed my leaky outdoor faucet fast and reasonably priced.

- Lori S.

"I recommend them highly. Great Job!"

This company was great to work with, I am an older widow and I felt they gave me a very fair bid! They were here when they said did the job and cleaned up as much as they could as they had to dig up some of my yard.

- Jan S.

"Excellent Service!"

This company is great! The lady who took my call listened and made the decision as we planned what to do next. Jeff was prompt, professional, and knowledgeable and told me exactly what I needed to know.

- Lynn L.

"Thank you all for the excellent job!"

Dwight and the team at EWorks really came through for my clients. We were able to coordinate to get the property sold on time and they saved my clients thousands. I highly recommend them.

- Isac G.

"Great Service All Around"

Em came out to do a sewer scope, she was early and called to see if she could get started early. She was professional, friendly, and thorough. She even researched our city's code after the scope to let us know a possible issue would not be our respon

- Danielle M.

"Loved working with Environmental Works! They are professional, easy to work with, and are always on time! Price is very good too! I will definitely recommend them to any homeowner."

- Jane B.
New Construction Passive Radon Systems
As of April 2011 the State of Oregon adopted senate bill 1025 establishing minimum requirements for radon resistant new construction. The state of Washington adopted similar radon system requirements years prior.
New residential and multi family structures must now have a minimum passive radon mitigation system according to EPA radon mitigation standards. These design standards are found in Appendix F of the Oregon Residential Specialty Code. The standards were adopted and implemented due to the risks associated with radon gas exposure in buildings and the simplicity and effectiveness of these systems when designed into the rough structure of the building. New construction systems often outperform retrofit systems for a lower installed cost, when installed correctly.
Environmental works has partnered with residential and commercial building and remolding companies to provide fast, high quality and affordable new construction radon mitigation systems, backed by a fully transferable 10 year guarantee that it will passively work. If it needs a fan to bring levels down, then we will install it for FREE!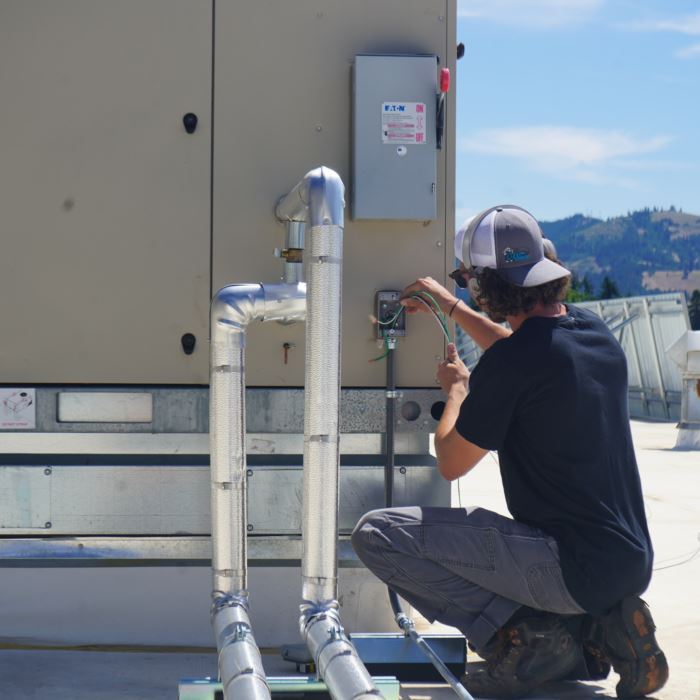 Residential & Multifamily Radon Mitigation
Active Soil Depressurization is the most frequently used method of reducing radon levels in single family and multifamily residential houses. These systems involve the creation of negative sub-slab (below the concrete floor) pressure to reverse the normal flow of soil gases upwards into your home or building. Upon assessment of the building's layout and potential sources of radon gas, a convenient suction point and interior or exterior fan locations are chosen that both retain functionality of the home and optimizes sub-slab suction of the mitigation system. By tapping into the substrate beneath your home, the radon fan captures soil gas and volatile organic compounds (VOCs) through a strategically selected suction point(s), venting harmful gases to above the roofline through sealed PVC/ABS piping. Environmental Works uses primarily 3" and 4" Schedule-40 PVC pipe, AMG® Radon Fans, and industrial grade sealants and hardware for a professional, long-lasting final product.
Sub-Slab Depressurization (homes or buildings with slab on grade concrete floors or basements) involves drilling a 5-6" hole, known as a suction point or suction pit, being drilled through the foundation floor of your home, typically in the lowest livable location. Approximately 5 - 20 gallons of substrate (soil, rock, sand, gravel, etc.) is removed to create a sizable cavity (suction pit) from which the suction fan will draw air, thus creating negative pressure underneath your home. The suction point(s) location is determined based on the layout of the home to ensure maximum pressure extension and radon reduction. Environmental Works makes every effort to select unfinished areas of a basement to dig these suction points, such as a utility or laundry room. In cases where no such space exists, suction points can be discreetly concealed within closets, corners, or even drywall framing to minimize the amount of exposed pipe and noise. Ultimately, EWorks will expertly determine the optimal location to drill the suction point(s) prior to constructing the entire mitigation system using a process called Pressure Field Extension Testing.
Pressure Field Extension (PFE) Testing is a method we use at Environmental Works to gauge the potential success of a proposed suction point location before completing the installation process. This level of certainty saves everybody time and money, ensuring a mitigation system will succeed at reducing radon levels once all is said and done. PFE testing involves the drilling of a small ¼" hole in one or more locations of a home's foundation floor away from the suction point, and the use of a manometer (highly sensitive pressure gauge) to measure the negative pressure being generated by the proposed suction point equipped with a temporary radon test fan. Should an additional suction point be necessary, PFE testing enables EWorks to assess exactly where it should be, or the best location for a second suction point. This helps to ensure that the system will perform well before installing a permanent system. All test holes are fully sealed upon completion.
Sealing of system penetrations, pipe/fitting connections, and structural components are necessary to achieve desired system performance, along with preserving the aesthetics and longevity of a home. Unsealed plumbing fixtures/drains, large cracks/gaps, or cold joints in a foundation must be properly sealed for a radon mitigation to effectively reduce radon levels. Environmental Works uses industrial grade, resilient caulking and expanding foam to maximize sub-slab suction of our systems, sealing sump pumps. Sealing of all joints and cracks in existing homes can be difficult due to floor finishes, but we will always seal problem areas that are accessible during install.
Stay Up to Date with
Environmental Works
Want all the latest news or updates? Browse through our blog to read our most recent posts and featured articles.