Portland Kitchen Drain Specialists
Drain Experts vs "Upfront Price" Plumbing Companies
Why pay Journeyman Plumber rates for services that do not require a plumber? Beware of "upfront pricing" on service plumbing and drain cleaning, which can often cost you much more money than an honest industry standard rate. We don't do interior plumbing so you will get an unbiased inspection and recommendations if repairs are needed INSIDE your home or business. This means that choosing Eworks for your drain clearing and underground drain repairs SAVES YOU MONEY!
You get much more with Eworks!
We provide a FREE sewer mainline camera inspection with EVERY drain service. That's right FREE! We know how devastating it can be to have a sewer backup, causing flooding, and contamination of your home or business. Our goal is to help eliminate this scenario by providing you with a simple free sewer video inspection of your main sewer line to find problems before they become disasters. This gives you peace of mind and will help protect your most valuable investment, your home or business. We also guarantee to clear your main sewer line for only $89* and provide a free sewer camera inspection so you can SEE IT FOR YOURSELF. With our industry leading 10 Year Warranty* on any underground drain or sewer repair, state of the art equipment for drain cleaning and hydro jetting, advanced drain camera inspections, and trenchless sewer repair technology, we have everything you need to get your Drain JOB DONE RIGHT!
Schedule your Portland Or and Vancouver WA kitchen drain cleaning with EWorks now!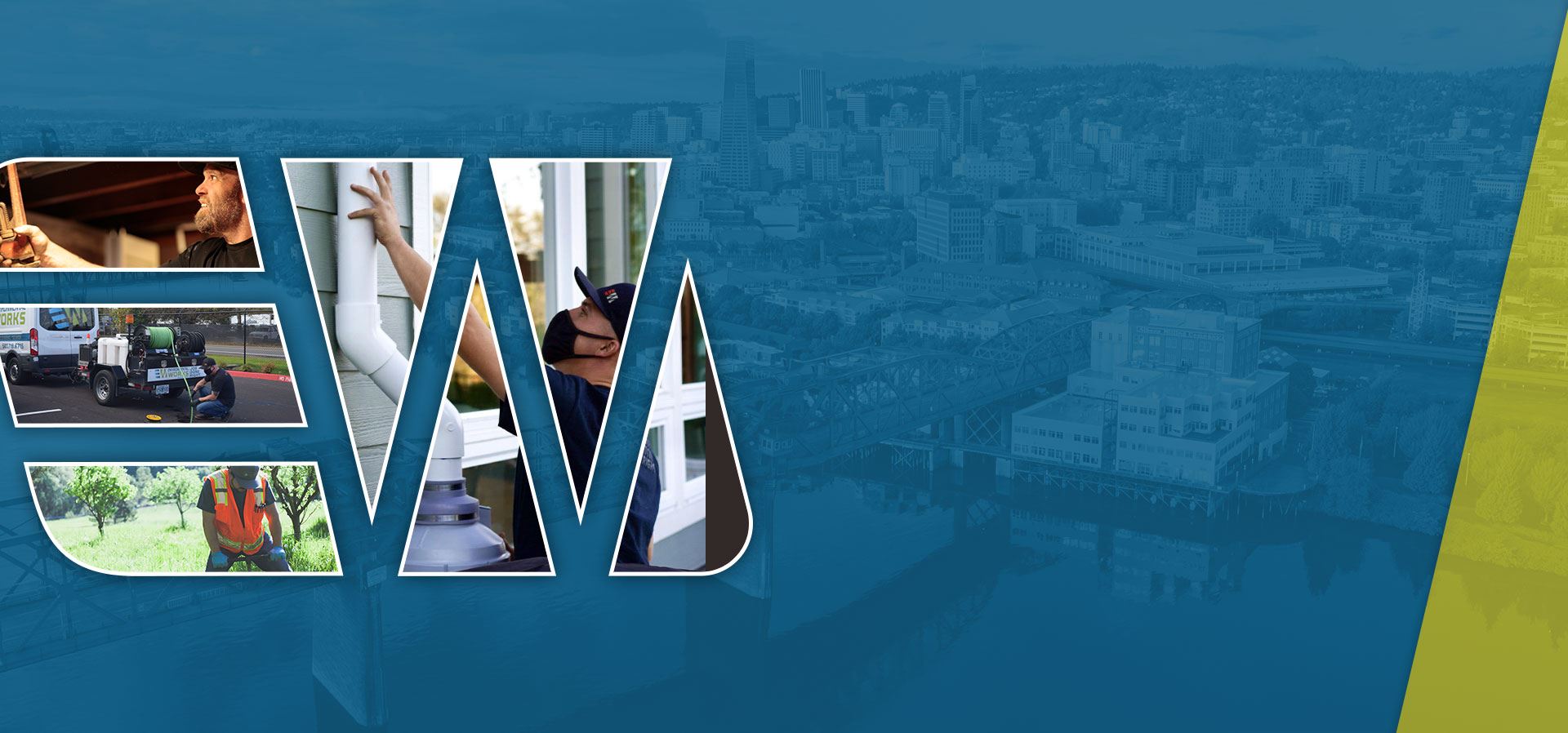 Happy Customers in Your Neighborhood
Hear From Our Past Customers
"5 Stars"

Both the managing and the on-site staff who actually installed the radon mitigation system were easy to work with. Specifically, I found them to be easy to communicate with and that they listened to my concerns.

- Diedra C.

"Thank you, from a very satisfied customer!"

Environmental Iron Works responded to my request for help the same day. Issue was resolved that day by Joel & Jacob. I appreciate Steve & Colby coordinating this last minute request on a Friday afternoon. Very professional, speedy response for help

- Michelle K.

"Thank You, Joel and Team!"

I've been using Environmental Works for years because they're great, and I just discovered something else they do very well--classes to educate homeowners and real estate professionals about the risks and various factors affecting homes when it comes to se

- Corey E.

"Made Everything Easy for Us"

We had environmental works install a drain line by doing horizontal drilling for a 3" line for 110', install the pipe and connect to existing plumbing that needed the extension. The work was done to our satisfaction in a single day.

- James R.

"Excellent Service!"

This company is great! The lady who took my call listened and made the decision as we planned what to do next. Jeff was prompt, professional, and knowledgeable and told me exactly what I needed to know.

- Lynn L.

"Great Service All Around"

Em came out to do a sewer scope, she was early and called to see if she could get started early. She was professional, friendly, and thorough. She even researched our city's code after the scope to let us know a possible issue would not be our respon

- Danielle M.

"Pleasure Doing Business & Highly Recommended"

I had the pleasure of working with Dave and others from Environmental Works. Integrity, professionalism, and detail-oriented every step of the way. They were able to work with my budget and time windows, a project completed by the book.

- Nick W.

"10/10 Amazing Company to Work With!"

I truly would recommend this company to anyone- specifically because of the customer service and value I received having Joe come on site. Joe at Environmental Works went way above and beyond helping me locate a very a hard to find tank in the backyard.

- Alex M.

"Thank you all for the excellent job!"

Dwight and the team at EWorks really came through for my clients. We were able to coordinate to get the property sold on time and they saved my clients thousands. I highly recommend them.

- Isac G.
Stay Up to Date with
Environmental Works
Want all the latest news or updates? Browse through our blog to read our most recent posts and featured articles.
Measures for Reducing the Risk of a Clogged Kitchen Sink Drain:
Use a fine mesh drain strainer at all times. This will prevent larger food particles from entering your P-trap, drains, and main sewer line.
Dispose of oil, butter, and fats outside of your kitchen sink as much as possible. This will reduce buildup in your pipes.
Put only small amounts of food into your garbage disposal drain and avoid putting fibrous food waste such as corn husks down the disposal.
Run hot water down the sink after washing dishes to reduce inevitable accumulation of small amounts of fats from food waste. This process, known as flushing, will help clean out your drain on a regular basis.
Maintain your main sewer line by having it routinely cleaned out every 1-2 years in order to prevent larger clogs from turning into sewer backups. Maintaining your drains with proper drain roto rootering and hydro jetting can prevent clogged kitchen sinks and clogged drains in your bathroom.